30,000+ homes & businesses clean their curtains & blinds with our proven mould removal product.
Do you have ugly black mould on your curtains? Curtain Magic® Mould Remover is the answer. No taking curtains down, no washing, no scrubbing & it works infront of your eyes.
Professional drycleaners, commercial laundries, hotels, motels, caravan parks, house cleaning companies, onsite curtain cleaning services, nursing homes, boat & caravan cleaners, and 1000's of home owners use our proven DIY Curtain Magic® Mould Remover products!
This 3 minute video will show you how quick the 'Curtain Magic® Mould Remover' works. This is un-edited and real….
Spray on curtain mould remover.
Suitable for ALL colourfast: curtains, blinds, nets, drapes, thermal rubber backed curtains, fabric & cotton linings, block outs, roller blinds, vertical blinds, venetians, polyester curtains, fabrics & more.
No scrubbing.
No taking curtains down.
Mould & Mildew vanishes in minutes in front of your eyes.
Product comes ready to use.
Contains +/- 1% sodium hypochlorite and a number of non-toxic ingredients.
"Speedy delivery and great results! I have clean, mould free blinds. Thanks."
USED BY HOTELS CHAINS, CURTAIN CLEANERS & MORE!
___________________________________
Our clients have also tested our amazing mould removal products on caravan curtains & awnings, cigarette nicotine stain removal, life jackets, boat covers & curtains, tents, plastic garden chairs & furniture, jumping castles, clothes, bathroom plastic shower curtains, upholstery, coffee stains, leather, lamp shades, canopies, shipping container mould cleaning & more! (Please take care when testing our products on surfaces we haven't designed the product for, such as the list above).
Directions once you receive the product:
The product comes as a 'ready to go' solution', therefore no diluting required.
Before applying the mould cleaner to any material in your house, make sure you cover any carpet & upholstery to protect from any stray spray.
You simply spray the curtain mould cleaner liberally onto the mouldy area of the curtain.
Wait 15 minutes for the product to fully activate.
If your mould is really ingrained in your curtain fabric, it may take several sprays. If the mould hasn't vanished after 15 minutes, simply re-spray the area where mould is still visible until gone.
(Further directions are on the bottle label)
Here is another video filmed by a customer that we found on Youtube:
Best time to spray the mould treatment onto your window furnishings:
Wait for a sunny day. Once the outside air temperature heats up (e.g. 10am), go ahead and apply the product liberally. Once the mould is all gone, spray them down with water (hose or spray bottle… depending if you've hung them up outside), wait for curtains to dry and rehang! It's all very fast and simple to use… 1000's of home owners and businesses use this product with success.
Main Benefits:
Compare curtain dry cleaning prices, and you'll see our product saves you lots of $$$;
No taking curtains away from your home;
No unknown people entering your house who offer cleaning services;
Simple to use… really simple
Delivered to your door
Curtain Magic® mould cleaner has been specifically designed for just about every common curtain fabric, including the following:
the white backing of thermal curtains,
colourfast and block-out blinds,
white, unattached curtain lining,
all colourfast curtains & thermal linings.
nets, drapes, calico, taffeta, blockout curtains and more.
Read further product description in our FAQ's
Here is some recent Ebay feedback about Curtain Magic®…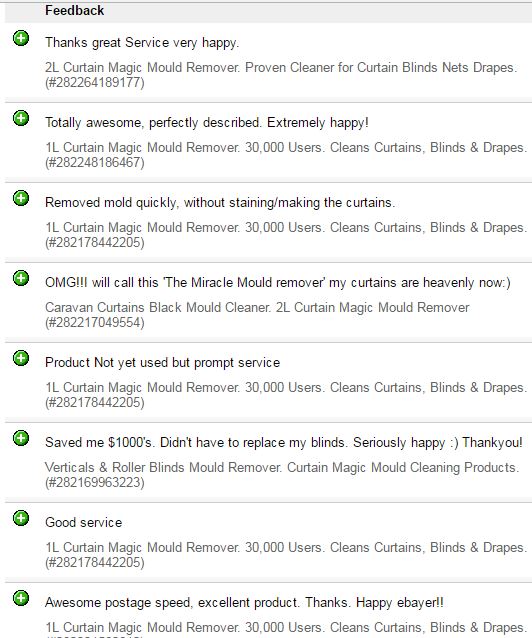 You can buy with confidence, as we ship the curtain mould removing product the next day after payment is received.
Curtain Mould Remover is delivered Australia Wide
—————————————————————--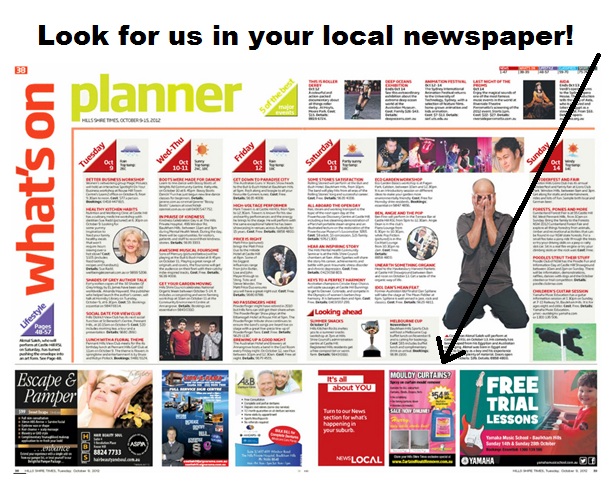 ORDER TODAY!
———————————————————--
FREE SHIPPING ON ALL ORDERS!
———————————————————--
Curtain & Blind mould cleaning services – Melbourne – Sydney – Newcastle – Brisbane – SA – WA – Tasmania. Specialising in distribution of mould removal products for curtains, ceilings & walls throughout Australia.
If you are a commercial cleaning company, or real estate property management company looking for a very unique product to add an additional income stream to your business, please call us for bulk purchase prices.