Are you looking for household mould cleaning services across Newcastle, Port Stephens, Maitland, Taree, Central Coast and the Hunter Valley region including Singleton & Muswellbrook… with guaranteed results everytime?
If the mould isn't gone, you don't pay!
Although the Curtain Magic range of mould cleaning products are manufactured by us, with over 30,000 household customers using our products, we also offer mould cleaning services at a fair price for ceilings, walls, mouldy bathrooms and many other areas around the home. Anywhere you have mould, we can clean it! (Excluding unpainted timber).
We offer free quotes over the phone, and are locally priced. We are based here in the Newcastle Region.
Why use us? We can clean mould off anything.
The products we use to get rid of your mould are manufactured by us, and the products are so effective that over 500 house cleaning companies, property management companies, drycleaners, hotels, motels and caravan parks in Australia & New Zealand use our products on a repeat basis with excellent results.
Our family passion remains with commercial and domestic mould cleaning (see our services list below), therefore you can be confident you are getting the best results at a fair price… from a very experienced & friendly family team.
Here are the areas we cover (If you are outside this area, we can ship our products to you… just order online and you'll have it shortly.)…
NOW ALSO SERVICING SINGLETON & MUSWELLBROOK!
Call Dean on 0451 690 388 – FREE quote over the phone.
Mould Removal Services:
Ceilings & walls
Bathrooms
Caravan awnings
Sun shades and outdoor awnings
Painted fences
House cladding
Tents
Shower tiles
Outdoor plastic furniture
Aluminium and corrugated iron sheets
Boat covers, boat sails, boat hulls
Curtain cleaning (30,000+ home owners use curtain cleaner) – We are the favoured choice of real estate agents and property management companies who require end of lease bond cleaning in the Newcastle, Port Stephens & Maitland and Greater Hunter region to clean mould off curtains. Thermal curtains, linings, nets, blinds, drapes and more… we can clean your curtains on site without taking them down, and the mould vanishes fast… not in days or weeks, we are talking while we are there.
Any surface or fabric material that has mould (Excluding wood), we can get it looking great within an hour!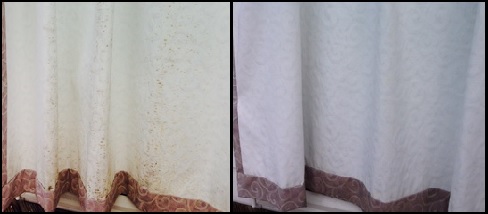 Call Dean on 0451 690 388 – FREE quote over the phone.
Mould Cleaning Services:
Newcastle, Maitland, Cessnock, Port Stephens, Lake Macquarie, Taree, Hunter Valley.