Thanks for finding us! 30,000+ happy customers have used our services or products, so we guarantee you will be happy with what we offer.
We can offer you 2 cost effective cleaning options:
We can send someone out to clean the mould off your curtains or blinds, or;
If you don't have time for Sydney dry cleaning or on-site curtain cleaners to come around, you can now 'do it yourself' for less than half the price in just 15mins. Use the exact same product we would use to clean your mouldy window furnishings, without taking the curtains down. Watch demo video – Lots of client testimonials
The Best Mould Removal Products in Australia?
Amazing results in just 15 mins! Our mould remover products have been used for years in several countries around the world for curtain & blind cleaning, so you can be assured that we know what ingredients work and which don't. Many other Sydney house cleaning companies, drycleaners, on-site curtain & blind cleaners, hotels, motels and caravan parks use our Curtain Magic Mould Remover products to speed up their jobs.
Order Here if you would like to save money and clean your window furnishings yourself.
Professional Curtain Mould Cleaning Services Sydney
Our family team offers both residential and commercial mould cleaning services across Sydney for curtain & blind cleaning.
You will always get a great deal from us at the best price, because we don't need to 'mark up' the product costs… we make it from scratch using a very specific refined formula that over 30,000 home owners and businesses now use.
Services we offer right across Sydney:
Curtain cleaning (30,000+ home owners use our curtain cleaner products) – Sydney real estate agents & property services companies who require a fast working product across the entire Sydney region use Curtain Magic Mould Remover. The product works in minutes on Thermal curtains, linings, blinds, nets, drapes and more. No need to take curtains down, no need for on-site steam cleaning or taking to the drycleaner!
Also works great on rubber backed curtains, block outs, cotton linings and in the folds of most fabrics.
No taking curtains down – No scrubbing – No lose of privacy!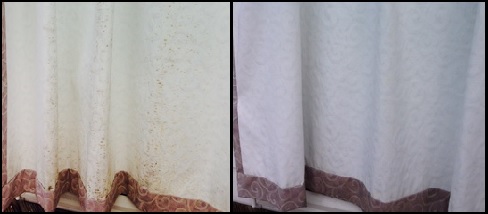 Professional curtain cleaning and blind mould removal cleaning services:
 Ashfield, Auburn, Bankstown, Blacktown, Botany Bay, Burwood, Campbelltown, Canada Bay, Canterbury, Fairfield, The Hills Shire, Hornsby Shire, Hunter's Hill, Hurstville, Kogarah, -ring-gai Lane Cove, Leichhardt, Liverpool, Manly, Marrickville, Mosman, North Sydney, Parramatta, Penrith, Pittwater, Randwick,  Rockdale, Ryde, Strathfield, Sutherland Shire, Sydney City , Warringah, Waverley, Willoughby, Woollahra.