Bathroom & Shower Soap Scum Cleaner for Glass and Tiles

Amazing product that cleans soap scum off glass shower doors and tiles… and it works exactly as demonstrated on the demo below.
Fast – Simple – No mixing – Spray on and wipe off!
———————————————————-
 Watch this 2 minute live demo video of the product in action (This is our New Zealand demo video, but you can now order the product in Australia only on this website)…
———————————————————-
"I tried out Soapscum Magic on a rental shower door glass, I had already cleaned the door with window cleaner and soap but it had left it not looking clean so I tried out Soap Scum Magic, sprayed it on and went off to clean the oven, came back and washed it off to find it looked great, clean and very presentable. I will definitely use this product again and recommend it to others." Karen – Auck.
———————————————————-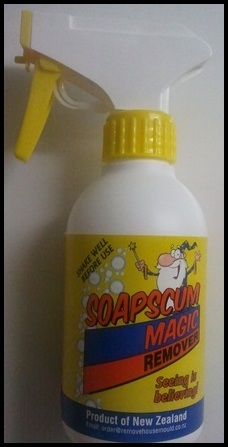 No matter what type of shower screen you have, or how much grime is on your shower tiles, you deserve a product that works so you don't! Soap Scum Magic will give an instant new clean look to your bathroom without any hard work on your part. 1000's of customers use our cleaning products with great success, and you should too!
The best product available for all your bathroom cleaning!
If you've been looking for a simple way to clean soap scum off your glass shower screens & doors, vanities and bathroom surfaces, then use our specialised soap scum removal product and get ready for crystal clear glass screen within minutes!
———-

———-